2016-03-30
Now it's official? Sarah Netanyahu is Prime Minister's office? Nope! It's just perversion of justice...
English abstract
Netanyahu is known for her uncontrolled alcohol consumption and apparently related episodes of extreme abuse against employees in the PM official residence. The State lost a civil lawsuit by former custodian of the PM residence on such grounds. Now, a second lawsuit is pending before the same court. As was the case in the previous case, Netanyahu is not a party to the case. The Prime Minister's office
, represented by the Attorney General's office, is the Defendant. However, the office of the Clerk of the Court accepted the filing by Ms Netanyahu of a Statement of Disqualification for a Cause in this case, and the Judge never deleted it from the record. Moreover, the entire matter failed to be registered in Net-HaMishpat - fraudulent case management and public access system of the Israeli courts. Of interest - Ms Netanyahu's Statement of Disqualification is opposed by the office of Attorney General's filing in this case... Corruption of the Israeli courts has reached unprecedented level over the past decade!
עכשיו זה רשמי? גב' שרה נתניהו היא משרד ראש הממשלה? הפרקליטות? לא ולא! עבור הגב' שרה נתניהו משבשים הליכי משפט!
כיצד "ביקשה" הגב' שרה נתניהו, שאינה צד בתיק, מהשופטת פרוז'ינין לפסול את עצמה? בטלפון? בטוויטר דרך ג'ודי מוזס-ניר-שלום? לא ולא! הגב' נתניהו הגישה בקשת פסלות בתיק שאינה צד בו, והעניין הוסתר שלא כדין בנט-המשפט... יש לראות באירוע זה הונאה ושיבוש הליכים על ידי מזכירות בית הדין לעבודה, השופטת פרוג'ינין, הגב' נתניהו ומי שפעל כבא כוחה... הסתרת האירוע מהרישום הציבורי בנט-המשפט מראה שוב על ההונאה הבסיסית בפיתוחה ובהפעלתה של המערכת. בתי המשפט הופכים את עצמם לבורלסקה או לקרקס.
תמונות:
הגב' שרה נתניהו - מעמד על חוקי לאשת ראש הממשלה; השופטת דיתה פרוג'ינין -
נשיאת בית הדין האזורי לעבודה בירושלים עוסקת בשיבוש הליכים והונאה בתיק אליהו נ משרד ראש הממשלה.
מאהל המחאה ת"א, 30 למרץ - על פי דיווחי התקשורת (ראה להלן מאמר היום ב- NEWS1):
'
נתניהו ביקשה מהשופטת דיתה פרוז'ינין לפסול את עצמה בעניינו של גיא אליהו - אך הפרקליטות סבורה שאין מקום לכך: "אין חשש למשוא פנים".'
אולם על פי הנתונים בנט המשפט (ראה להלן) הגב' נתניהו אינה צד בתיק...
אז איך בדיוק "ביקשה" הגב' נתניהו מהשופטת פרוז'ינין לפסול את עצמה? בטלפון? או שמא על ידי ציוץ דרך
הגב'
ג'ודי מוזס-ניר-שלום?
תמונה:
ציוץ בטוויטר של
הגב'
ג'ודי מוזס-ניר-שלום
_______
כזכור, לאחר הפסיקה בתיק מני נפתלי שלחה הגב'
ג'ודי מוזס-ניר-שלום את ההודעה הבאה בטויטר:
השופטת דיתה פרוז'נין היקרה, סתם שתדעי שברגעים אלו ממש, נאסף אודותייך תיק עבה כרס, שבו נפרשים כל תולדות חייך, קשרייך, השלדים בארון, למי הצבעת וכדומה
לא ברור מדוע הגב' נתניהו בכלל רוצה לפסול את השופטת פרוג'ינין:
אם נשפוט על פי הכתבים הציבוריים בנט המשפט, השופטת פרוג'ינין דווקא מראה זהירות יתרה, אולי עד כדי משוא פנים דווקא לטובת הגב' נתניהו: דיון והחלטות בעניין הרגלי השתייה של הגב' נתניהו הושמטו מפרוטוקול דיון ביום
2015-09-20 (ראה להלן - החלטות בתיק).
יתרה מזאת, פתרון לתעלומה מראה שהשופוטת פרוג'ינין מוכנה לשבש הליכים עבור הגב' נתניהו: מקור מהימן מוסר שהגב' נתניהו הגישה בקשת פסלות בתיק אליהו נ משרד ראש הממשלה (16783-04-14) בבית הדין האזורי לעבודה ירושלים:
עצם קבלתו של כתב בקשה זה לרישום צריך להיחשב להונאה של המזכירות, או לראיה חותכת לאי כשירות המזכירות -- ובהתאמה - אי כשירות בית הדין האזורי לעבודה י-ם.
אי דחייתו מרישום של כתב בקשה זה על ידי השופטת פרוג'ינין צריך להיחשב לשיבוש הליכי משפט, להונאה על בית המשפט, ולהונאה על הציבור.
אי רישומה של הגב' נתניהו ומי שפעל כבא כוחה בעניין זה בנט המשפט , אפילו לא תחת כרטיסיית "גורמים" (ראה להלן) מצביע שוב על ההונאה הבסיסית בפיתוחה ותפעולה של מערכת נט המשפט...
אליהו נ משרד ראש הממשלה (16783-04-14) בבית הדין האזורי לעבודה ירושלים - כתבים ציבוריים בנט המשפט
הצדדים
התובע: גיא אליהו,
הנתבעים
: משרד ראש הממשלה/המשרד הראשי, עזרא סיידוף - סמנכ"ל נכסים, קלינור אחזקה בע"מ.
באי הכוח
באי כוח התובע: נאוה פינצוק ונעמי לנדאו - עד לאחרונה שותפות במשרד עורכי דין
באי כוח משרד ראש הממשלה ועזרא סיידוף: כוכבית נצח - פרקליטות המדינה
באי כוח קלינור אחזקה בע"מ: שלמה בכור - משלמה בכור, משרד עורכי דין
תחת "גורמים בתיק" נרשמים כאלה המגישים בקשות שאינם צדדים בתיק ממש. לדוגמה - כלי התקשורת המבקשים גישה לכתבים או לשידור מאולם בית המשפט, מבקשי עיון וכדומה. כאן לא נרשמה הגב' נתניהו אפילו תחת "גורמים".
מועדי הדיון והפרוטוקולים התואמים
ארבעה דיונים התקיימו, ולכולם נרשמו פרוטוקולים.
החלטות בתיק
אינה מראה אף אחד מן הפרוטוקולים וההחלטות שבהם... כרגיל, בית המשפט מנהל ספרים כפולים עבור רשימת "החלטות בתיק" (DOCKET) - התנהלות שתיחשב טיפוסית לבית דין בלתי כשיר ו/או מושחת בכל אומה מתוקנת...
מעניינת במיוחד החלטה מיום 2015-11-16 לגבי בקשה לתיקון פרוטוקול מיום 2015-09-20, ממנה עולה שדיון והחלטות לגבי הרגלי השתייה של הגב' נתניהו הושמטו מהפרוטוקול...
פסקי דין
תיקים קשורים
הפרקליטות נגד שרה נתניהו_ News1
נתניהו ביקשה מהשופטת דיתה פרוז'ינין לפסול את עצמה בעניינו של גיא אליהו - אך הפרקליטות סבורה שאין מקום לכך: "אין חשש למשוא פנים"
▪ ▪ ▪
הפרקליטות מתנגדת (יום ד', 30.3.16) לבקשתה של שרה נתניהו לפסול את שופטת בית הדין האיזורי לעבודה בירושלים. דיתה פרוז'ינין, מלדון בתביעתו של גיא אליהו נגד המדינה.
אליהו עבד בבית ראש הממשלה וחלק מעילות התביעה שלו דומות לאלו של אב הבית לשעבר, מני נפתלי. פרוז'ינין קיבלה את רוב תביעתו של נפתלי, ולטענת נתניהו - עשתה זאת תוך קביעות עובדתיות המשליכות גם על תביעתו של אליהו. לנוכח זאת, ביקשה נתניהו מפרוז'ינין לפסול את עצמה.
פרקליטות מחוז ירושלים (אזרחי) אומרת בקצרה בתגובתה: "הנתבעים סבורים כי אין חשש למשוא פנים ולפיכך אין עילה לפסילת המותב.
בית הדין הנכבד יכריע בעניינו של גיא אליהו בהתאם לפלוגתאות שנקבעו בתיק זה ועל סמך מכלול החומר שהונח לפניו".
תאריך: 30/03/2016 | עודכן: 30/03/2016
http://www.news1.co.il/Archive/001-D-377465-00.html
המדינה על בקשת שרה נתניהו לפסול השופטת בתיק גיא אליהו: "אין עילה"
"אין חשש למשוא פנים ולפיכך אין עילה לפסילת המותב", נכתב בתשובת המדינה לבקשתה של אשת ראש הממשלה לפסול את השופטת דיתה פרוז'ינין מלהכריע בתביעת אליהו. בתוך כך מסתמן כי המדינה תסכים שיש לרעיית רה"מ מעמד להיות צד להליך וכי יש לה זכות לערער על פסק הדין בעניין מני נפתלי
30.03.16, 16:25
המדינה הגישה היום (ד') את תגובתה בנוגע לבקשתה של אשת ראש הממשלה, שרה נתניהו, לפסול את השופטת הדנה בתביעה של עובד מעון ראש הממשלה לשעבר גיא אליהו ולפיה אין עילה לעשות זאת. גם אליהו טען בפני בית המשפט כי אין עילה לקבל את הבקשה: "רעיית ראש הממשלה החליטה לפתוח במתקפה חזיתית ומתוקשרת כנגד מערכת המשפט בישראל".



תגובת המדינה מגיעה על רקע בקשתה של נתניהו שהוגשה לבית הדין האזורי לעבודה לפני כשבועיים ולפיה יש לפסול את השופטת פרוז'ינין מלהכריע בתביעת אליהו שטוען ליחסים פוגעניים במעון ראש הממשלה. לשיטת נתניהו, מדובר באותה שופטת שפסקה לאחרונה לטובת אב הבית לשעבר במעון ראש הממשלה, מני נפתלי, תוך מתיחת ביקורת חריפה על התנהלותה, דבר שחייב אותה לתת פסיקה זהה בעניין זה.

בתוך כך, מסתמן כי המדינה תסכים שיש לרעיית ראש הממשלה מעמד להיות צד להליך וכי יש לה זכות לערער על פסק הדין בעניין מני נפתלי, כך נודע ל"כלכליסט". כזכור, לאחר מתן פסק הדין בעניינו של נפתלי ביקשה נתניהו להגיש ערעור אף שלא הייתה צד להליך. בית המשפט הורה למדינה להגיב לבקשתה וזו צפויה להסכים.

"אליהו מודאג מאוד מכך שרעיית ראש הממשלה החליטה לפתוח במתקפה חזיתית ומתוקשת כנגד מערכת המשפט בישראל", כתבו באות כוחו, עוה"ד נאוה פינצ'וק אלכסנדר ונעמי לנדאו לבית המשפט, "מתקפה הכוללת התקפה אישית כנגד שופטים ונציגי ציבור המכהנים בדין".

לשיטתו של אליהו, מדובר בחוליה נוספת ב"שרשרת ההתעמרות של נתניהו בעובדיה או באחרים תוך שימוש ציני וחסר כל בסיס והגיון משפטי. נתניהו תוקפת את בית הדין בניסיון להלך אימים ולהרתיע אותו מלמלא תפקידו ולבחון ללא חשש את הנעשה במעון ראש הממשלה".

עוד לדברי אליהו, מטרת המתקפה מצדה של אשת ראש הממשלה היא שימוש לרעה בהליכי בית משפט מטעמם מי שאיננו צד להליך "מתוך כוונה להשתמש בהליכים באצטלה להגנה, לכאורה, מפני טענות על הוצאת לשון הרע".

עו"ד פינצ'וק-אלכסנדר מסרה: "רעיית ראש הממשלה מגישה בקשות ומערערת על קביעות של הרשות השופטת באופן המנוגד לדין ומעמיד את שלטון החוק בישראל במבחן. עד אינו רשאי לבקש פסילת שופט ולפעול באופן עצמאי מול בית המשפט. גם במסגרת הערעור שהגישה גב' נתניהו בתיק מני נפתלי היא משתלחת באופן חסר רסן בבית הדין לעבודה ובשופטת, ומאשימה כי 'בית הדין ירה קודם את החץ ורק לאחר מכן סימן סביבו את המטרה'. עוד היא טענה כלפי בית הדין כי הוא איפשר להוביל אותה 'כצאן לטבח'". הבקשה שלה לפסילה הינה המשך ישיר של הערעור שהגישה - ניסיון להלך אימים ולהטיל מורא על שלטון החוק ועל השופטת היושבת בדין".

עו"ד לנדאו מסרה: "דין בקשתה של הגברת נתניהו להידחות ולו בשל העובדה שאין לה כל מעמד בהליך המשפטי הנוכחי, מלבד היותה עדה מטעם הנתבעים. בקשתה לפסול את המותב (הרכב השופטים), אינה אלא המשך דרכה המתעמרת והאלימה, שנועדה להלך אימים על בית הדין לעבודה בישראל. אין לנו אלא להצטער על כך שגורמים שעומדים בקצה פירמידת הכח, מטילים את כל כובד משקלם על מערכת המשפט שלנו, במטרה לשנות סדרי עולם, כך שיתאימו לגברת שרה נתניהו. אני תמהה על כי פרקליטות המדינה לא עומדת על רגליה האחוריות ומביעה עמדה נחרצת כלפי חוסר האמון שמביעה הגברת נתניהו בפרקליטות, ועל ניסיונה לעקוף את הפרקליטות בניהול תיק הזה. אני תקווה כי בית הדין ימצא לנכון להעמיד את הגברת נתניהו על מקומה אחת ולתמיד".

גורם המקורב למשפחת נתניהו המסר: "פסק הדין המוטעה והמטעה בעניין מני נפתלי - רעיית ראש הממשלה ערערה עליו בשל הטעויות הרבות שנפלו בו וגם הפרקליטות ערערה עליו וכתבה כי ׳המדינה סבורה שנפלו טעויות בקביעות העובדתיות בו׳ - נועל את עמדתה של השופטת ולא מאפשר לה לפסוק אחרת בעניין גיא אליהו.

"הסיבה לכך ברורה: בתיק מני נפתלי בית הדין כבר קיבל את כל טענותיהם של התובע נפתלי והעד גיא אליהו, ודחה את כל טענותיה של רעיית ראש הממשלה, שלא הייתה צד להליך ולכן לא קיבלה הזדמנות להביא עדים וראיות כדי להוכיח את צדקתה. על סמך אלה, קבע בית הדין בתיק מני נפתלי שהייתה העסקה פוגענית לגבי כל העובדים, דבר שלא יאפשר לאותה שופטת להשתכנע ולפסוק אחרת בעניין גיא אליהו. כל בר דעת מבין שאותה שופטת לא תפסוק בניגוד לפסק הדין שלה עצמה, ועל כן המשחק מכור".

עוה"ד של גיא אליהו: "שרה נתניהו מבקשת להרתיע את ביה"ד"
רעיית רה"מ ביקשה לפסול את השופטת דיתה פרוז'ינין מלדון בתביעתו של עובד מעון רה"מ לשעבר גיא אליהו, כיוון שפרוז'ינין דנה גם בתיקו של עובד אחר במעון, מני נפתלי, וקיבלה את תביעתו ■ מחר יגיש אליהו לביהמ"ש את תגובתו
חן מענית
שרה נתניהו דורשת לפסול את נשיאת בית הדין בתביעת עובד נוסף במעון רה"מ
רעיית ראש הממשלה הגישה בקשה לפסול את השופטת דיתה פרוז'ינין מלדון בתביעתו של גיא אליהו נגד משרד ראש הממשלה: "ננעלה על דעתה ולכן יש לפסול אותה". עו"ד של העובד: "בקשה הזויה"
רעיית ראש הממשלה
שרה נתניהו
מבקשת בצעד חריג ויוצא דופן לפסול את נשיאת בית הדין האזורי לעבודה, השופטת דיתה פרוז'ינין, מלדון בתביעתו של
גיא אליהו
, העובד הנוסף שהגיש תביעה נגד משרד ראש הממשלה.
נתניהו טוענת כי השופטת "ננעלה" על דעתה וכי לכן עליה לפסול את עצמה מלתת פסק דין גם בתיק של אליהו. יש להדגיש כי השופטת פרוז'ינין קבעה קביעות חמורות בנוגע לשרה נתניהו בתיק שניהל
מני נפתלי
נגד משרד ראש הממשלה. נפתלי זכה בתביעתו נגד משרד ראש הממשלה כשנקבע שסבל מהעסקה פוגענית במעון ראש הממשלה ו
נפסקו עבורו 170 אלף שקלים פיצויים
.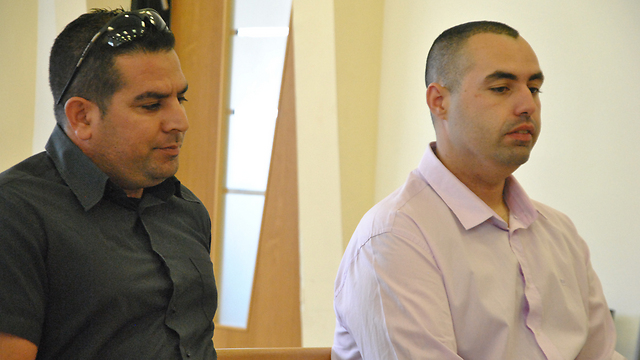 גיא אליהו (מימין) ומני נפתלי בבית המשפט
(צילום: עפר מאיר)
"בית הדין הנכבד קבע למעשה באופן נחרץ, נוקב וברור: ההעסקה במעון ראש הממשלה – כלפי כל העובדים, לרבות אליהו, הייתה פוגענית, כל זאת, בין היתר, תוך קבלת עדויותיהם וטענותיהם של נפתלי ואליהו ועדיהם, ודחיית עדויותיהם של העדים מטעם ההגנה", כך נכתב בבקשת הפסילה שהוגשה על ידי עורך הדין יוסי כהן מטעמה של רעיית ראש הממשלה. "דומה שלא נגזים אם נטען כי במצב דברים זה, ההכרעה האפשרית היחידה בתיק אליהו כתובה באותיות קידוש לבנה על הקיר".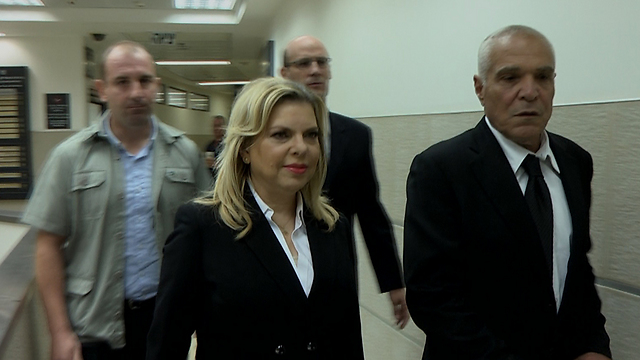 דורשת לפסול את השופטת. שרה נתניהו, ולצדה עו"ד יוסי כהן
(צילום: אלי מנדלבאום)
כזכור, רק בחודש שעבר קבע בית הדין כי מני נפתלי הועסק העסקה פוגענית במעון ראש הממשלה.
עו"ד נעמי לנדאו, מומחית לדיני עבודה, המייצגת את גיא אליהו, אמרה היום: "על אף הצהרותיה שהתקשורת רודפת אותה, נדמה כי לגברת נתניהו חסרה תשומת לב, אחרת אין שום דרך להסביר את בקשתה ההזויה לפסול את כבוד הנשיאה פרוז'ינין. אין בבקשה הזו דבר וחצי דבר מלבד שאיפתה החוזרת של הגברת נתניהו להלך אימים ולהטיל מורא על כל מערכת המשפט, לבל תקבל החלטות שלא יישאו חן בעיני הגברת הראשונה. לא ייתכן שהגברת נתניהו תמשיך להטיל כך רפש בשופטת ותהלך אימים גם על ערכאת הערעור שאמורה לדון בעניינה. על הנהלת בתי המשפט לשים לזה סוף".
עוד אמרה לנדאו: "הבקשה עצמה אינה ראויה לכל התייחסות עניינית, שכן לגברת נתניהו היו אינספור אפשרויות להציג את עמדתה, להשפיע, להביא עדים מטעמה כפי שאכן עשתה. זהו ניסיון נואל לשפר עמדות מהסיכומים שהוגשו לאחרונה על ידי הפרקליטות בתיקו של גיא אליהו, ולהביע חוסר אמון וחוסר שביעות רצון עמוקים מתפקודן של פרקליטות מחוז ירושלים".